Riverside Entertainment Center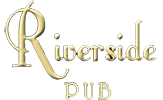 Contact Person: Tracy Peter-Paul
2546 King George Highway , Miramichi, E1V 6W9
(506) 773-6100

Category: Accommodations & Food Services
Taste of Miramichi Menu Offerings:
Appetizers
Zambuka Flame Kissed Escargots with mushroom and melted parmesan cheese
$9.99
OR
Spinach salad with watermelon, feta cheese, toasted almonds, and topped with bacon wrapped water chestnuts and then drizzled with a Raspberry Blush vinaigrette.
$9.99
Mains
A 6oz Atlantic Salmon fillet, stuffed with Pesto, placed on asparagus spears, and then wrapped in puff pastry.
$21.99
OR
An 8oz "Tower Hill" Striploin, grilled to perfection, served on top of a pillar of Potato Au Gratins, caramelized onions, and mushrooms.
$22.99
Dessert
Strawberry Shortcake Cake, served with a Strawberry compote sauce.
$5.95
————————————————————————–
Riverside Pub is a friendly, fresh, gaming lounge that takes your entertainment experience up a notch. Open daily from 10 am to 2 am. A full range of Atlantic Lottery products are available. Pub food daily from 11 am to 11 pm, and Breakfast served all day on Saturday & Sunday.